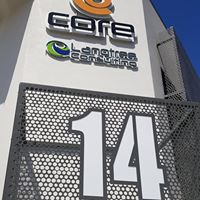 Decorative Aluminium Screens add wow factor to entry
21 August, 2019
Core Constructions Townsville loved their new Decorative Aluminium Screens that added wow factor and matched perfectly with existing lattice screens.
Custom Screens the finishing touch on Core entry awning
Our mates at Core Constructions Townsville got us to work on their Decorative Aluminium Screen project. It was a challenge to recreate the existing screen design. This incorporated a laser cut street number that needed to join on an angle to the existing decorative screen work.  Core were very happy to see the new screens fitted perfectly.  Because of our extensive experience with graphic design and signage manufacture it was a breeze to recreate the design. Then our Large  Format CNC Router chewed through the 3mm aluminium plate with ease. We then finished it off with a sanding on both sides ready for the powder coating. Lastly a few strategic folds on the brake press and she was ready to go. Core picked up the Decorative Aluminium Screens and when installed they fitted like a glove.
Don't settle for boring stock items. Townsville CNC can create custom designed decorative screens and products to suit your project
The days of having to settle for boring stock items are over with Townsville CNC's ability to create unique designs from a wide range of materials in custom sizes.
We know that in the real world things don't come in convenient standard sizing, the real world is awkward and messy. That is why we customise designs to suit your area so they fit perfectly.
We can work with your designs or create something unique to suit your project.
Whether it is Decorative Screens, Privacy Screens, Garden Screens, Screen Fencing, Gate Screens, Security Screens or Pergola Screens, we ca  supply Decorative Screens Direct to you.
Give our team a call to see how we can add some extra flair to your next project. Contact us.
Recent News